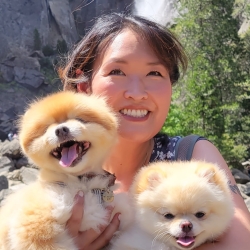 Ivy Chen
Lecturer Faculty
Sexuality Studies
Email: ivychen@sfsu.edu
Location: HSS 326
Office hours are by appointment only.
Ivy Chen is a Lecturer with the Department of Sociology and Sexuality Studies and has taught the SXS/PSY 320 Sex & Relationships course for the over 20 years. She also teaches Public Health 320 Contemporary Sexuality. Ivy holds an M.P.H in Health & Social Behavior and a B.A. in integrative biology, both from UC Berkeley.
More broadly, Ivy is a sexuality health educator, and has been working with Bay Area communities for the last 26 years. She teaches students ranging from the 4th grade through college age, as well as parent groups, teachers, and health professionals. Topics covered in her workshops include puberty, consent, healthy relationships, sexual and gender identity, sexual decision making, sexually transmitted infections, contraception, and increasing communication about sexuality within families. She tailors each presentation to the specific group served, and ensures that all materials are age-appropriate and inclusive. Overall, she strives to make learning important information about sensitive topics as accessible, comfortable and fun as possible. 
Other duties:
Implement needs assessment of different communities and populations.
Plan, implement and evaluate outreach and educational programs.
Develop sexuality health education curricula.
Design survey instruments.
Media spokesperson for sexuality health education on TV, radio, and newspaper.
Research Interest
Sexuality Health Education
Departments
Sexuality Studies
Psychology
Public Health