Sociology examines the social aspects and dimensions of most everything human beings do in the realm of politics, economics, culture, technology, relationships, and identity. Studying sociology provides students critical and reflexive perspectives with which to understand the world. It pushes students to develop the analytical, research, and compositional skills necessary to investigate, understand, analyze, explain and improve the world around them.
Courses cover a broad range of topics including: the study of individuals as social actors; the analysis of social processes such as social interaction and deviance and conformity; the study of institutions such as law, family, media, popular culture, medicine, education, and religion; and the investigation of the social organization of entire societies in the global context. The department offers a variety of courses of interest to non-majors as well as to majors and career outlook. 
General Pathway to a Sociology degree by Dr. Valerie Francisco-Menchavez.
Required Courses
Course Number
Course Description
Units
SOC 300 GW
Sociological Analysis GWAR (SOC 300 GW is a prerequisite for all other required courses in the major)
4
SOC 370*
Classical Theories of Society or
4
SOC 371*
Contemporary Theories of Society
SOC 392
Introduction to Research Methods
4
SOC 393*
Quantitative Analysis of Social Data or
4
SOC 394*
Sociological Field Methods
SOC 500*
Senior Seminar or
3
SOC 501*
Internship: Applied Sociology (2) and
SOC 502*
Internship Seminar: Applied Sociology (1)
Total Required Courses
19
*Due to space limitations, students can typically only take one of this set of courses unless there is room and they have permission from the Department Chair.
At minimum, 3-4 semesters are required in order to complete the major requirements and the major core courses must be taken in sequence. Students typically do not get into the first core course (SOC 300GW) until their second semester junior year.
Sociology Electives
In fulfilling the elective requirements students must complete at least one course from each of the following two areas*
Area 1: Inequalities in the United States
| Course Number | Course Description | Units |
| --- | --- | --- |
| SOC 272 | Social Inequality: Poverty Wealth, and Privilege | 4 |
| SOC 330 | Comparative Race and Ethnicity in the US: Class Gender, and Nation | 3 |
| SOC 362 | The Social Construction of Deviance and Conformity | 4 |
| SOC 400 | Variations in Human Sexuality | 3 |
| SOC 455 | Punishment and Social Control | 3 |
| SOC 464 | Families & Society | 4 |
| SOC 467 | Lesbian, Gay, Bisexual, Transgender, and Queer Cultures and Society | 4 |
| SOC 468 | Social Aspects of Human Sexuality | 4 |
| SOC 469 | Gender and Society | 4 |
| SOC 490 | Sociology of Popular Culture | 3 |
Area 2: Global Inequalities
| Course Number | Course Description | Units |
| --- | --- | --- |
| SOC 461 | Ethnic Relations: International Comparisons | 4 |
| SOC 471 | Societal Change and Development | 4 |
| SOC 477 | Environmental Sociology | 3 |
| SOC 480 | City in a Global Society | 4 |
| SOC 481 | Sociology of Brazil | 3 |
| SOC 482 | Global Immigration and Immigrants | 3 |
| SOC 483 | Global Sociology | 4 |
| SOC 645 | Identities, Inequalities & Struggles in Latin America | 3 |
Total Number of Units for Electives: 23-24
Total Number of Units for Major: 42-43
*The remaining units may include additional courses from these areas, 3-4 upper-division units outside sociology upon approval of a sociology advisor and any other course with a sociology prefix including SOC 105, SOC110, SOC 200, SOC 245 and courses taken at other institutions.
Please note that the Sociology program accepts up to 12 lower-division units as electives toward the major. These units can be transferred credits or taken at SF State, including SOC 105 and SOC 245. Students must have a total of 30 upper-division units toward the major.
There are multiple options for Sociology majors to complete the Complementary Studies (CS) requirement. Sociology majors may mix and match between the following categories – minor courses, Ethnic Studies courses, and language courses. 
Students who complete two majors or a major and a minor automatically complete the complementary studies requirement. Additional ways to complete complementary studies for students in the sociology major:
Option 1: Minor
Completion of a minor fulfills the CS requirement
Students may also fulfill CS with courses that count toward any minor program (e.g. course in CJ, WGS, HED, RRS)
Minor courses cannot be cross-listed with SOC
Option 2: Ethnic Studies
Any courses in AAS, AIS, Latinx, RRS, Africana Studies
Option 3: Language     
Any courses in the Department of Modern Languages and Literature Program
AP Language transfer courses count
Other important details:
Courses can be lower or upper division
Students can use courses taken at a community college that count toward a minor or transfer as an Ethnic Studies course
Complementary Studies classes do not appear on the DPR
Sociology major advisors will confirm fulfillment of this requirement on graduation applications
Students who have earned AA-T or AS-T degrees and are pursuing a similar B.A. degree at SF State are required to fulfill the Complementary Studies requirement as defined by the major department. Students should consult with a faculty advisor about how transfer units and/or SF State units can best be applied to this requirement in order to ensure degree completion within 60 units.
Faculty advisors determine what counts as Complementary Studies courses.
Please note that the department strongly encourages students to meet with an advisor early during their first semester at SF State regardless of academic rank. All students are required to have met with a Sociology advisor at least once by the time they have completed SOC 300GW. Each student is assigned to an advisor based on their last name. The faculty list follows:
Upon completion of a B.A. in Sociology, students can continue their education with graduate work in either sociology or in some related field such as social work, public administration, or law. For students who choose to pursue employment with their bachelor's degree, sociology provides an excellent liberal arts foundation for a range of career paths that utilize their sociological insights as well as the conceptual and methodological skills they have acquired. Training in sociology can open a variety of doors in the human services and in business. Those who enter human services may work with youths at risk, the elderly, or people experiencing problems related to poverty, substance abuse, or the justice system. Some find employment in agencies that work for social change including various organizations concerned with human rights issues or the environment. Sociology majors who enter the business world work in sales, marketing, customer relations or human resources.
In addition, the sociology major has a competitive advantage in today's information society. The solid base received in research design, data analysis, statistics, and sociological concepts enables them to compete for support positions in research, social planning, policy analysis, program evaluation and other social science endeavors
21st Century Careers with an Undergrad Degree in Sociology (PDF)
Advising FAQs
Any course you have taken in a sociology program at a California Community College counts for our sociology elective unit requirement, up to a limit of 12 units total. You should be aware that some classes you have taken at community college show up on your DPR as courses we offer in the Sociology program at SF State. For example, if you took introductory sociology at a community college, it will likely appear on your DPR as our own SOC 105. That means you already have credit for SOC 105. If you have taken a sociology course that we don't offer, 'SOC 100TR' will appear on your DPR transcript as Transfer Credit (see below). You can count these community college transfer Soc units toward your SF State SOC elective requirement (up to 12 total).

To find out if a course is articulated with a course here at SF State, use Assist.
Our core courses (SOC 300, 370/371, 392, 393/394, and 500/501-502) are all upper division. You may have taken a course entitled "research methods" or "sociological theory" at your community college, but it will not fulfill these five major course requirements. We encourage you to check CSU Fully Online to see if you can take an upper division SOC course at another CSU.
Yes, we currently allow you to count one non-SOC upper division course with sociological themes (think race, class, gender, sexuality) towards your sociology elective units (maximum of 4 units).  You must consult with your advisor to get approval for this course. Students typically take courses in Ethnic Studies, Women and Gender Studies and Public Health that may count as toward your SOC elective units.
Yes, you can "double count" a course for both complementary studies and elective sociology units.  You must consult with your advisor to get approval for this course.
No. You should keep track of your complementary studies units (12 units) as you take them and with the approval and support of your advisor. Your complementary studies will be checked off on your graduation application.
The total units on your DPR includes the current courses you are registered for in its calculation of units.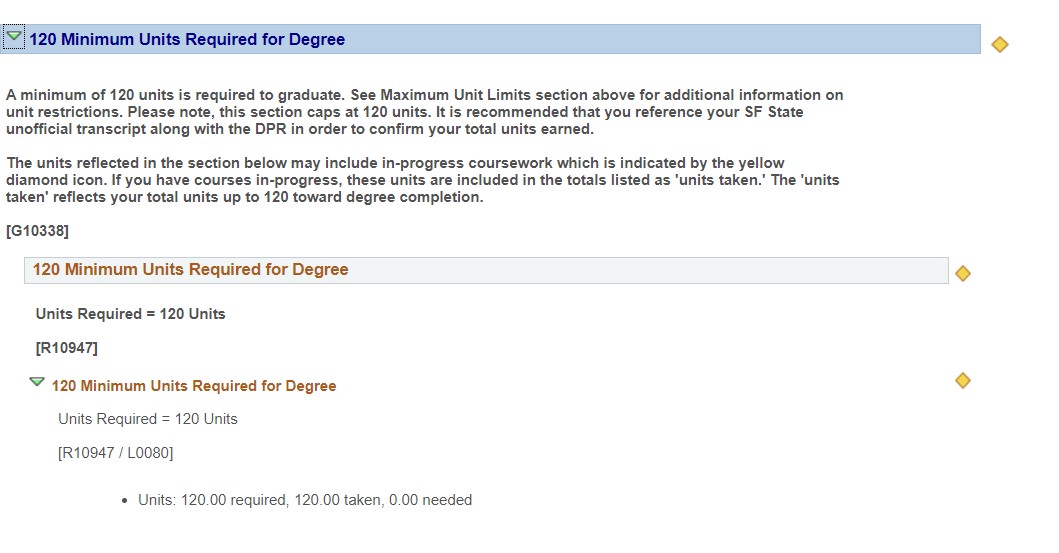 Your unofficial transcript only includes units in classes you've already completed. If you drop a class you are registered for, it can change what is marked in yellow on your DPR.
Yes, you are allowed to take these courses concurrently. You must have completed SOC 300GWAR successfully to take these courses. Please be aware they are both demanding 4-unit courses. You should make sure you have sufficient time for a heavy reading and assignment load if you take these courses concurrently.
If you are shut out of one of our required courses, please email the following info to us:
Course you are shut out of
Your name, student # and email address
Semester you started/will start at SF State
Semester and year you were officially accepted into the SOC major
# of units you will have completed at the end of the Spring semester you have just finished
The department always asks for resources sufficient to get students the courses they need. 
Second, register for other courses that will help you progress towards your degree. For example, register for upper division SOC electives or ensure your Upper Division General Education requirements are completed.
You should immediately consult with your advisor to modify your education plan so that you are not delayed in your path to graduation.
Yes. Complementary studies are courses outside of sociology that augment what you are learning in the major. These courses can be from any number of different departments. As long as they form a coherent "complement" to your major, the courses will count.  You must consult with your advisor to get approval for your complementary studies courses. Please note that if you take 12 units of a single foreign language or if you have a minor, you are automatically considered to have fulfilled your complementary studies requirement.
When people ask about my undergraduate studies, I always get excited to tell them about SF State's sociology program, and how it helped shaped the person I am and the work that I do today. I will never forget the passion with which Professor Hossfeld taught me about social inequality, the knowledge Professor Carrington shared with us about sexually marginalized communities, or the kind words from Professor Bettinger that helped me realize my own potential. Lastly, I met one of my long-time mentors, who I still work with to this day, during my time at the program. The faculty at SF State's Sociology Department are truly committed to the success of their students, something that is difficult to find in other academic settings around the world.
Today, I am a public health researcher, working in sexual and reproductive health with a social justice lens. I have no doubt that my time in the Sociology Department equipped me with the skills needed to ask the right questions, use research methods to shine a light on the inequalities of world, and create meaningful change for communities in the Bay Area and around the country.
I am an emeritus professor of sociology at Texas A&M University. I just retired last month after a career of almost 50 years at the University of Texas-Austin, Cornell, and Texas A&M. I have taught demography, statistics, sociology of gender, demography of sexuality and many other courses over my career. And I have published many books and articles in these areas. I served as department chair at Cornell and at Texas A&M. I've headed the sociology doctoral committees of over 60 graduate students, and I've taught sociology classes during my career to around 4,500 to 5,000 undergraduate students.
My two years at SF State in the 1960s started me off on this great career.
I then began graduate school at SF State in the Spring semester of 1963. Dr. Garrity was the Chair of the department and he helped me get started in the program. There was so much more sociology at SF State than there had been at USF. It was exciting to take classes, and I had some wonderful classes: social psychology from Dr. Garrity; social research from Dr. Lastrucci; industrial sociology from Dr. Terrien; sociological theory from Dr. Brandemeyer; urban sociology and research methods from Dr. Dodge.
In my second class with Dr. Dodge he told me he thought I should consider becoming a sociologist and he recommended that I continue graduate studies for a doctoral degree. He was instrumental in my being accepted in the graduate sociology program at University of Oregon. Indeed my mentor there at Oregon, Dr. Martin, was the mentor of Dr. Dodge when he was a grad student at Oregon five or so years earlier. I graduated from Oregon in 1968, spent two years in the Army in Georgia, California, and Vietnam, and then started out as an assistant professor at the University of Texas at Austin in January of 1970. I was at Austin for 18 years, at Cornell for 4, and at Texas A&M for 27.
It has been a truly wonderful life and career. But I attribute my real introduction to sociology to my classes and teachers at SF State and to Dr. Dodge for his mentoring and advising. 
So I thought you'd like to hear from an old-timer about how important SF State was in my life more than 50 years ago. I never ever could have made it through the PhD program at Oregon without my classwork and experiences and the professors at SF State. Several of them wrote recommendation letters for me, and I kept up with a couple of them into the early 1980s. They have all passed away by now. But I'll never forget their classes and how much I learned from them and how exciting they were in their teaching of sociology.
The Department of Sociology at SF State is unique because of the professors. My sociology professors were very passionate about "using your sociological imagination" and having discussions on current societal issues in order to give the class a deeper understanding of how society impacts us on various levels. My undergraduate milestone was definitely my research internship at the Center for Research Education Gender and Sexuality with Dr. Jessica Fields. This opportunity allowed me to apply the skills I was learning in the classroom to The Beyond Bullying Project and sparked my interest in qualitative research as well as community based participatory research.
I am now in the Master of Public Health program in Community Health Education at SF State, where I continue to practice my critical sociological lens on issues affecting marginalized populations. I also sit on the executive boards for the American Public Health Association LGBT Caucus with Dr. Gabriel Galindo, who taught Research Methods in the Department of Sociology at SF State.
Sociology is the main reason I decided to take college seriously. The teachings of sociology opened my eyes to many fascinating ideas and cultures. The practices of the field are forever used in my viewpoint of the world now. I wish that I could have been more emerged in the studies even now almost a year out. Constantly, I look forward to new sociological perspectives and look for speeches to attend just because I fell in love with this field. From doing the lower level courses to the senior seminar class, the vast areas of studies really covered all my interest. This allowed me to grow the way I wanted to and made my academic life more successful.
Once I got to the upper division work, in particular Intro to Research Methods, I knew immediately I wanted to take SOC 393 Quantitative analysis. I was so excited to learn about big data and how numbers can tell a story; you just need the right question. The tutelage of the tenure professors was the guiding arm that cultivated yet another passion, Demography. I am now trying to pursue graduate degree in this area thanks to SF State's sociology program. I finished one chapter, opening another all with the same passion. For that I am grateful to my professors and the opportunity of studying what I love.
Download Adobe Reader. The documents on this website have been identified as having barriers to accessibility. The site owner is working to remedy these access barriers. If you experience problems using this site/the documents, contact sociology.sfsu.edu.