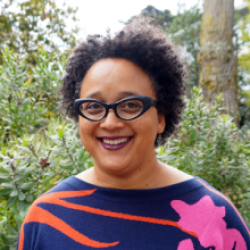 Andreana Clay
Professor of Sociology; Interim Dean, College of Health and Social Sciences
Sociology, Sexuality Studies
Phone: (415) 338-1090
Email: andreana@sfsu.edu
Location: HSS 372
Office hours are by appointment only.
Andreana Clay is a Professor in the Department of Sociology. Her book, The Hip-Hop Generation Fights Back: Youth Activism and Post-Civil Rights Politics (NYU Press, 2012) explores how youth of color organize and identify as activists in the post civil rights era. Her articles on hip-hop culture, queer sexuality, youth activism, and hip-hop feminism have appeared in several anthologies and academic journals, including Home Girls Make Some Noise!: A Hip-Hop Feminist Anthology, the American Behavioral Scientist, and Meridians: A Journal of Race, Feminism, and Transnationalism.
Previously Offered Courses
SOC 300 Sociological Analysis (Hip-Hop Culture and Popular Music)
SOC 371 Contemporary Sociological Theory
SOC 467 Queer Cultures and Society
SOC 469 Gender and Society
SOC 490 Popular Culture and
SOC 500 Adolescence: Youth, Selfhood and Social Inequality
Research Interests
Youth Culture and Identity
Queer of Color Theory and Critique
Popular Culture
Race/Class/Gender/Sexuality
Social Movements and Activism
Publications
Clay, Andreana. The Hip-Hop Generation Fights Back: Youth, Activism, and Post-Civil Rights Politics. New York University Press, 2012.
Clay, Andreana. 2011. "'Working Day and Night: Black Manhood and Masculinity in the Performance of the King of Pop." Journal of Popular Music Studies, Vol. 23:1.
Clay, Andreana. 2008. "Like an Old Soul Record': Me'Shell Ndegeocello, Queer Politics, and Hip-Hop Feminism." Pp. 53-73 in Meridians: Feminism, Race, Transnationalism, Vol. 8:1.
Clay, Andreana. 2007. "'I Used to be Scared of the Dick': Queer Women of Color, Hip-Hop, and Black Masculinity." Pp. 149-165 in Home Girls Make Some Noise!: Hip-Hop Feminism Anthology. G. D. Pough, E. Richardson, A. Durham, and R. Raimist, editors. Monroe, CA: Parker Publishing.
Clay, Andreana. 2006. "All I Need is One Mic: Mobilizing Youth for Social Change in the Post-Civil Rights Era." Pp. 105-121 in Social Justice, Vol. 33:2.
Clay, Andreana. 2003. "Keepin' It Real: Black Youth, Hip-Hop Culture, and Black Identity." Pp. 1346-1358 in American Behavioral Scientist, Vol. 46:1, edited by N. L. Marshall.