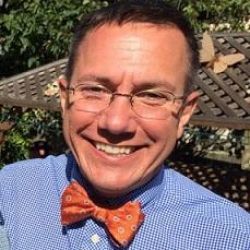 Christopher Carrington
Associate Professor
Sexuality Studies
Email: ccarring@sfsu.edu
Office Hours:
Fri:
11:00 a.m. - 1:00 p.m.
Also available anytime on Canvas messaging
Christopher Carrington is an Associate Professor of Sociology and Sexuality Studies. Dr. Carrington's publications include: No Place Like Home: Relationships and Family Life among Lesbians and Gay Men (University of Chicago Press). Dr. Carrington's research focuses on lesbian and gay family life and relationships, work & family conflicts, family policy for gay and lesbian people, domesticity in same-sex families, and the social and psychological aspects of creating durable and resilient relationships for sexual minorities. I am currently beginning a new research project in 2013 focused on the sociology of holiday celebrations among L.G.B.T. people who live in San Francisco.. He teaches Variations in Human Sexuality (SXS400), Families and Society (SOC464), and Biological and Psychological Foundations of Human Sexuality (SXS801).
Previously Offered Courses
SXS 400 Variations in Human Sexuality
SXS 455 Sex, Power and Politics
SOC 340 Social Psychology
SOC 362 Deviance and Conformity
SOC 464 Families and Society
SOC 468 Social Aspect Human Sexuality
SOC 472 Social Inequality
SXS 680 Colloquium in Human Sexuality
SXS 685 Projects in the Teaching of Human Sexuality
SXS 801 Biological and Psychological Foundations of Human Sexuality
Research Interests
Lesbian and gay relationships and family life
Gay male sexuality
Gay male friendship
Work and family issues for sexual minorities
Evolutionary psychology
Sociobiology
Sexual variations. 
Departments
Sociology
Sexuality Studies 
Publications