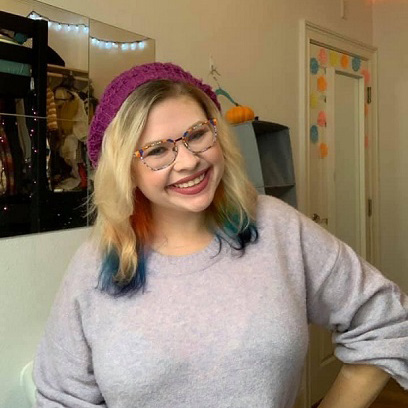 Madison Bluhm (she/hers)
Madison generally goes by Madi. Madi is originally from Michigan and received her bachelor's degree in psychology from Albion College. Through her work with UCP Detroit centered around individuals with Cerebral Palsy, Madi developed an interest in working with members of the disabled and neurodivergent community. Here, she was able to link her personal connections to the disabled and queer communities to academic and volunteer work. She intends to continue her education and obtain a doctorate degree in clinical psychology. As a therapist, she intends to work with disabled and neurodivergent individuals and look into the limitations of sexuality within treatment spaces. Her goal is to continue working with a focus primarily on the young adult population. Currently, she is working on a thesis looking historically at the way psychiatric institutions have been used to punish expressions of sexuality. She plans to address the use of institutionalization as a punishment and method of containment instead of as a way to offer help to individuals in need. She will additionally to use her research to address the de-sexualization forced on certain populations.
Lizbeth M. Cordero Hernandez (she/her/hers)
Lizbeth is a native of Puerto Rico. She received her B.A. in General Psychology at the University of Puerto Rico-Cayey in 2017. During her last year in her undergraduate, she researched gender perspective in her campus community. The study sought to identify different forms of inequality found between genders manifested in the Puerto Rican society. Since high school, Lizbeth has been fascinated with sexuality, as she considers it an important aspect of humans. In addition, she was curious about the taboo held around sexuality and how it impacted the quality of life on the island. She is pursuing the path to become a Human Sexuality Educator and be certified by the American Association of Sexuality Educators, Counselors and Therapists (AASECT). During her time in San Francisco State, she will be exploring women's sexual experience using cannabis-infused sex products for her master's thesis. Lizbeth is interested in conducting future research projects on how gender roles have changed over time, study the manifestation of sexuality through social media, and advocate the importance of consent within the MeToo movement. She also desires to study issues related to race, gender, class with their relevant historical, biological, and psychological aspects that will benefit her in her goal to publish articles in journals dedicated to women and human sexuality.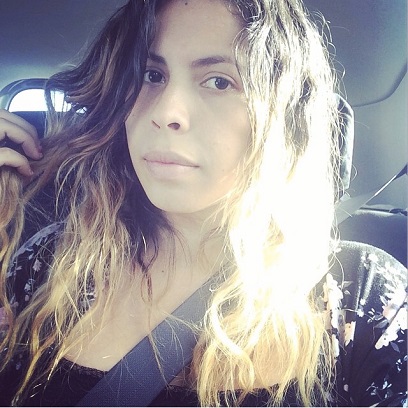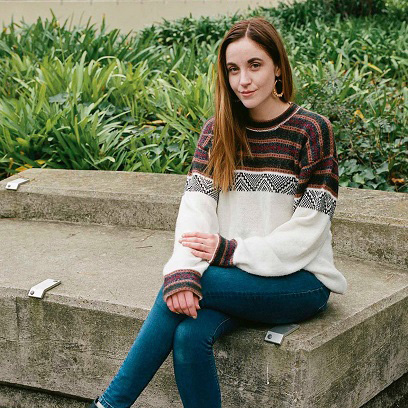 Tina Coyne (she/her/hers)
Tina is a working studio artist, research assistant and former art educator from central Texas. After earning her B.A. in art education from Texas State University, she began teaching at a middle school in a conservative district. While teaching, she developed the first LGBTQ Ally program for Seguin ISD, providing support and educational resources to a largely unacknowledged queer student population.
As a working artist, her portfolio explores the variation of female bodies, diarism, party culture, and nudity/sexuality as a form of intimacy. Inspired by the diaristic works of Nan Goldin, whose photographs depicted the lives of the LGBTQ+ community and the intimacy of her own sexual encounters, Tina became interested in identifying how sexuality, gender, race, class, ability and other political identity markers influence the individual, their mode of self-expression and the subsequent institutional responses to/exclusion of such works. As a graduate student, Tina is researching public perceptions of queer, non-normative and othered representations within fine art and visual culture studies. The culmination of this work will render a creative thesis called Queer Aesthetics, a literary, artistic and academic publication intended to engage critical and visually generative discourses across the fields of queer studies, ethnic studies, visual culture studies and their many intersections/parallels/circuits within the larger, and concurrently smaller, interdependent art world(s).
Post-M.A., Tina will pursue her Ph.D. in visual culture studies and queer theory, establishing collegiate coursework centering queer analytics, art production and perceptions of non-normative artworks, representations and cultural productions.
Shelby Devlin (she/her)
Shelby is a certified Sex & Intimacy Coach, trained in the Somatic Method. She facilitates a safe environment for individuals and couples to deepen their knowledge of their own desires, nurture their capacity for connection, and build practical relational skills. Within her practice, Shelby provides comprehensive sexual education ranging from anatomy and body mechanics, to fantasy exploration and vulnerable communication. She has worked as a sex educator at a fetish boutique, published erotica, taught classes on BDSM, given talks ranging on female sexuality to intimate communication, and facilitated workshops on non-normative relationship models. Shelby is also a licensed CMT and received her training from the San Francisco School of Massage and Bodywork. After licensure, she continued her education to become an Associate practitioner of the Ortho-bionomy Method. This modality allows her to integrate trauma-release bodywork, and emotional mapping into her coaching practice. As a graduate student, Shelby is interested in studying the role desire plays in contemporary sex-lives and relationships. Specifically, she is researching how emotional and psychological desires and/or needs motivate an individual to pursue sexual activity and intimate relationships. Post-graduation, Shelby plans on continuing to create original research on desire within a Ph.D. program.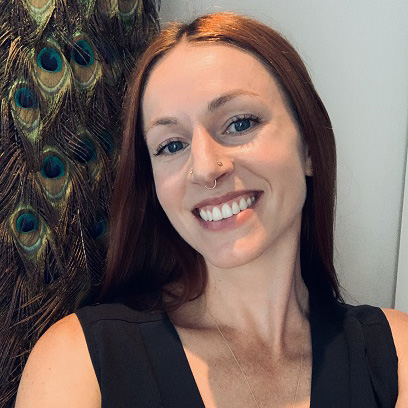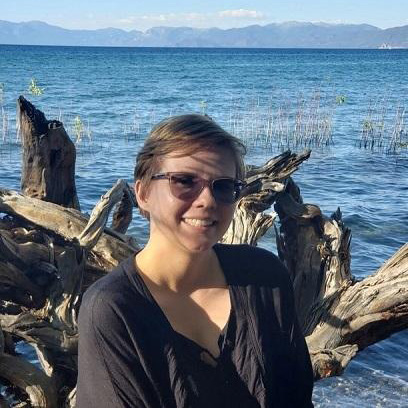 Caitlin Graziani (she/her/hers)
She graduated from the University of California, San Diego with a B.A. in Critical Gender Studies, and it was there that she discovered her love of studying issues in sexuality and gender. She became interested in working with theories regarding publics as they related to gender and sexuality. Her undergraduate thesis focused on the intersections of masculinity, colonialism, and white supremacy in order to create a framework for understanding mass shootings in the United States. Through the M.A. program in Sexuality Studies, She intends to expand these ideas to discuss the ways in which sexuality is constructed within the United States in ways that allow for, or ascribe, violence in certain bodies. The implications of this research touch individuals across every part of society — academia, personal relationships, work, health, etc. She hopes to shift understandings of public violence in ways that incorporate conversations about sexuality. Her goal is to continue my research in a doctoral program, and she would like to end up teaching this material. She decompresses by cooking and spending time at the river with her dogs. 
Ginger Mueller-Testerman (she/her)
Ginger is a pleasure-positive author and advocate dedicated to the academic research of sexuality. She is particularly interested in cultural influences on the discourse of pleasure and intimacy in America. Her background in intentional living and alternative communities has influenced the perspective and passion she brings to her research. Her work is grounded in developing foundational theories from which to build pleasure-positive curricula and other works. Additionally, she believes in the connection between pleasure and individual freedom and in the establishment of the Equal Rights Amendment so that the equality of all individuals will be included and represented in the American government. She plans to continue her research in a Ph.D. program following her graduation from the Sexuality Studies M.A..
Ultimately, her goals are to continue to write, research, and teach in order to increase the dialogue and value of pleasure and intimacy studies within academia and in the public.
Besides her academic interests, Ginger likes to care for plants (both indoors and outdoors) and develop practices for sustainable living while nearly constantly sipping cups of hot tea.